This Sunday, April 18, a fire started on Table Mountain above Rhodes Memorial. As I am sure many of you have seen, Rhodes Mem restaurant was the first to go. The fire moved quickly, driven by strong Cape Town winds and a blistering hot day. UCT Campus was in the line of fire, and soon students were being evacuated and embers started fires along Upper and Middle campus.
We were devastated to watch the Rare Books collection go up in flames. And are now counting the cost of other buildings on campus that suffered damage.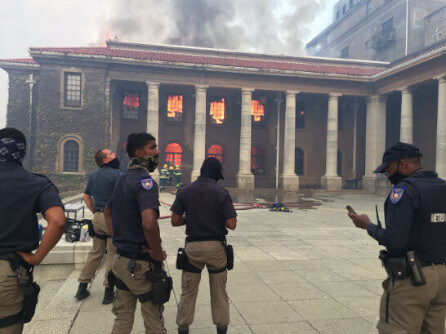 In the direct aftermath, UCT alumni across the globe are reacting in shock, horror and sadness at the devastation. We have set up a UCT Emergency Fund across the globe to help with the clean up, help the students who have been evacuated. We will also have to count the cost on the psyche of the institution, its students and staff. Some of the videos on social media vividly illustrate the trauma experienced.
We are calling on all UCT Alumni to lend a hand, any donation, no matter the size will go a long way to helping restore our campus.

International donations can be made directly through UCT on http://www.alumni.uct.ac.za/giving/ways-to-give .